Nat'l & Int'l CH Brewmeister Bell of the Ball
"Bella"
Not only is Bella one our heart dogs, she is a large part of our foundation. She has blessed us with Vegas and Emmie, and is also LouLou's Grandmother. She is a little too big to be shown in the AKC Conformation Ring, however, earned her KCUSA National and International Champion titles in just one weekend of showing. She is a very gentle soul who is much happier to be snuggled up next to the washing machine or couch than out running a muck, unless that is, she has puppies - she is an excellent mother!

Bella is out of AKC Champion Beairds Milady Sara and by AKC Champion GracynImage. She stands 20in at the shoulder and weighs 48lbs. She was previously registered AKC Australian Shepherd, however, was transferred into the AKC Miniature American Shepherd Stud Book in 2015.

OFA Hips: Good -
AS-29654G33F-VPI
OFA Elbows: Normal -
AS-EL5974F33-VPI

OFA Eyes: Normal - AS-EYE2117/44F-VPICollie Eye Anomaly - Normal/Normal
Cone Degeneration - Normal/Normal
Degenerative Myelopathy - Normal/Normal
Hereditary Cataracts (Australian Shepherd Type) - Normal/Normal
Hyperuricosuria - Normal/Normal
Multidrug Resistance 1 - Normal/Mutant
Multifocal Retinopathy 1 - Normal/Normal
Neuronal Ceroid Lipofuscinosis 6 - Normal/NormalProgressive Retinal Atrophy/Progressive Rod-Cone Degeneration - Normal/Normal
​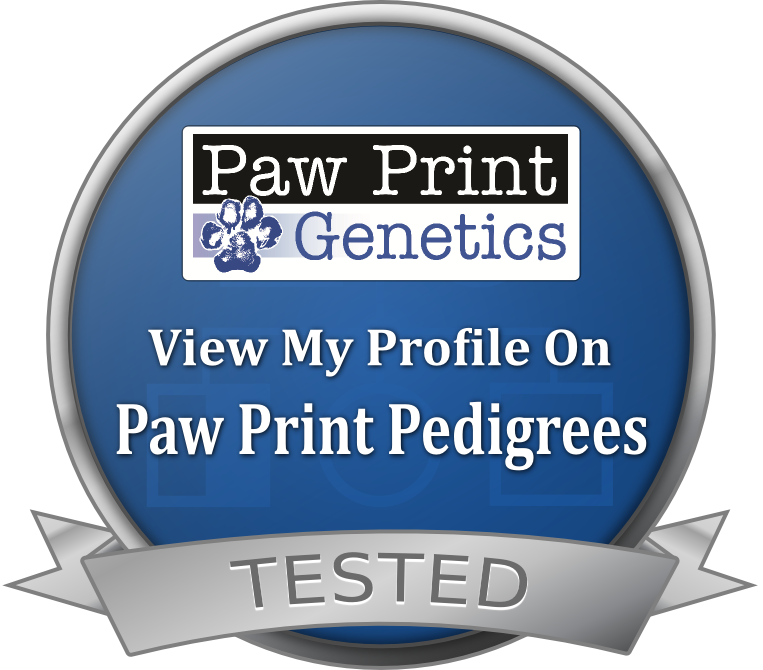 ​© LittleBitta Luck Farms 2012

All Rights Reserved
No part of this website or any of its contents may be reproduced, copied, modified or adapted, without the prior written consent of the author, unless otherwise indicated for stand-alone materials.